February 8, 2010

I have been to koi shows all over the United States but I have never been to the koi shows of all koi shows, The 2010 All Japan Koi Show. I have had the great fortune to be able to attend the show this year.
The All Japan Combined Nishikigoi Show is the largest and most prolific show in the world. It is held each yer in Japan usually at the end of January or the beginning of February.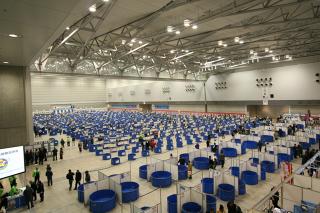 This years show was held at the Toki Messe Hall in Niigata City, Japan. We were able to get into the show on Thursday and got a sneak peak of the show during the setup before it opens to the public. There were a total of 548 tanks that held 1580 koi.